Best chromebook laptops 2019
Once reserved strictly for students, Chromebooks have evolved into highly capable laptops that are often a better alternative to similarly priced Windows or Mac notebooks. Living with a Chrome OS notebook requires a lot less compromise than it used to. With cloud storage and services slowly taking over our digital lives, these affordable laptops are rapidly growing in popularity, and deservedly so!
The addition of support for Android and Linux apps makes Chromebooks an even more attractive proposition. Today's best offerings have 360-degree touch-sensitive displays, which allow you to enjoy Chrome OS and Android apps to the fullest, in tablet- or laptop-style!
With a wide variety of entries to choose from, we've researched and compared more than 20 different offerings from ASUS, HP, and Acer, among others. We scoured the internet, reading reviews from other publications and consumers, and even tested a handful of them to round up the best picks for every size and budget.
BEST OVERALL
1
ASUS Chromebook Flip C434 2-in-1 Laptop
$529.99
The ASUS Chromebook Flip C434 is one of the few Chromebooks that's worthy of being a true laptop replacement. It's elegant, incredibly versatile, has a premium build, and offers top-notch performance. Compared to other Chromebooks that sport mostly plastic builds, the ASUS flaunts an all-aluminum body that is well-made, polished, and feels solid. Its 14-inch touch-screen display is practically bezel-less and it has a 360-degree hinge, so you can fold it back and use it like a tablet.
The notebook comes with an Intel Core m3 or m5 processor, with the pricier m5 packing 8 GB of RAM compared to the m3's 4 GB. More RAM means better, less sluggish multitasking. Even if you don't splurge for the more expensive model, this Chromebook is more than capable of browsing with multiple tabs open, editing several documents simultaneously, and playing music or videos without issue.
Our only complaint was that we wish there was a variant with a 128 GB of storage space. Fortunately, it has a microSD card slot handy for expanding storage when you need to load up on movies before a long flight. Even better, you can average about 10 hours of battery life on a single charge — an impressive feat for a laptop this portable.
BEST BUDGET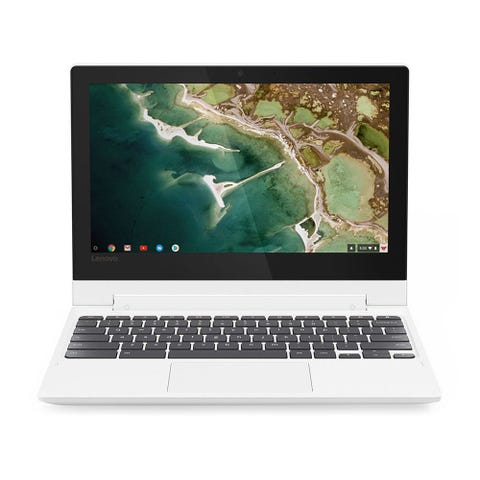 Lenovo Chromebook C330 2-in-1 Convertible Laptop
$257.99
The affordably priced Lenovo 2-in-1 Chromebook is a good pick for students. It has a lightweight body, a comfortable full-sized keyboard, and up to 10 hours of battery life. The notebook's processor isn't the fastest around, but it's more than sufficient for basic tasks, and it's equipped with all the ports you need.
The 11.6-inch touch display won't wow you with its HD resolution, either, but its 360-degree hinge allows you to lay it flat on a table to share content with friends or classmates, and stand it up like a tent. The laptop packs a 720p HD webcam for video chats, a microSD card slot to expand its small 32 GB of storage, and an HDMI port for hooking it up to a larger display.
BEST SPLURGE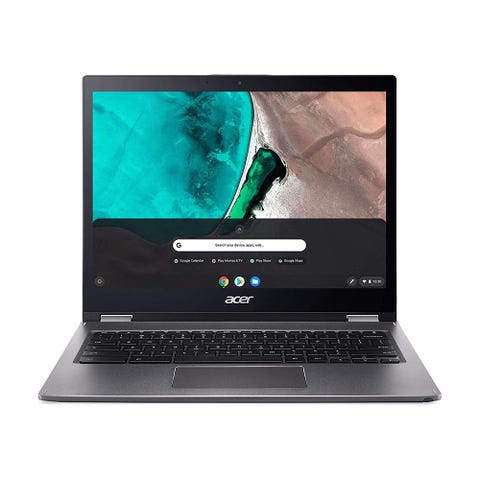 Acer Chromebook Spin 13 2-in-1 Convertible Laptop
$679.99
Even though this isn't the most expensive Chromebook you can buy, we don't think you should drop that much on one considering you can get a more capable laptop for even cheaper. The Acer Chromebook Spin 13 will stretch your dollar further. It has a sharp-looking, all-metal body, a powerful processor, and a vibrant display on a versatile 360-degree hinge.
It includes a built-in stylus by Wacom, making it a great pick for those who frequently annotate documents or want a laptop that'll let them jot down notes by hand. The computer is powered by one of the latest Intel processors, making it faster and more capable at running graphic-intensive programs without any lag whatsoever.
You'll appreciate its Gorilla Glass screen and touchpad, which don't scratch as easily, and feel more premium and smoother than cheap plastic ones. You can expect around 10 hours of battery life with this laptop. If you want a Chromebook that stands above the rest, this one is worth splurging for if you can afford it.
BEST CHROME OS TABLET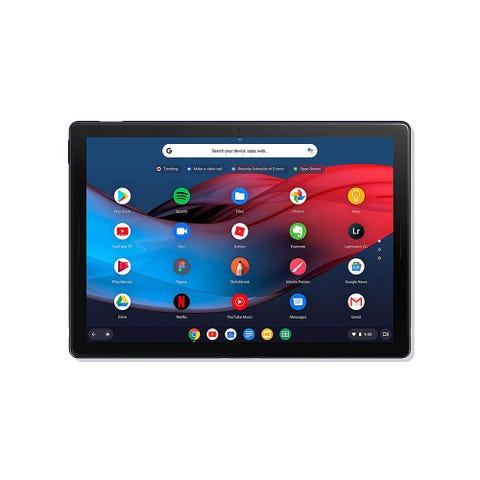 Google Pixel Slate
$871.99
The Google Pixel Slate is without a doubt the best Chrome OS tablet money can buy. We highly recommend that you opt for it over a high-end Android tablet. The elegant-looking Slate has a vibrant 12.3-inch touch screen, a wide selection of Intel processors, a pair of USB-C ports, up to 12 hours of battery life, and fast charging capabilities among its key features.
The base model features an eighth-generation m3 processor, 8GB of RAM, and a 64 GB of storage. Most should spring for the more expensive option, which gets you a Core i5 processor, 8 GB of RAM, and 128 GB of storage. The Pixel Slate has a full, desktop-class browser and more open hardware than an iPad Pro does.
To make the most out of the Google Slate's productivity capabilities, we suggest that you pair it with an optional backlit keyboard cover. The device is also compatible with the Pixelbook Pen stylus.
BEST LARGE SCREEN OPTION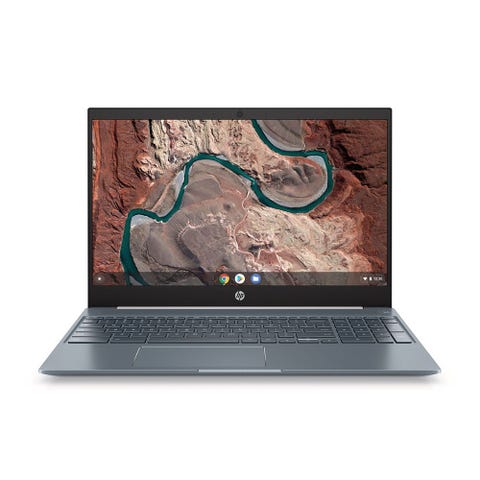 HP Chromebook 15
$469.00
The Chromebook 15 is our favorite pick for those looking for a large screen. The attractively priced notebook has a bright, easy-to-read 15-inch IPS touch-screen display, an attractive ceramic-like body with a sleek design, slim bezels, and metal accents. The keyboard is full-sized, backlit, and has that beloved number pad for spreadsheet makers.
Other specs include 4GB of onboard memory, an integrated Intel HD Graphics 620 GPU, and up to 8 hours of battery life. With speakers tuned by B&O Play, the notebook also offers a surprisingly good audio experience for its price point. By default, it comes with 64 GB of storage space, but you can pay extra for double the space and a faster Intel Core i5 processor.
Key Specs:
• 8th Generation Intel Core i3-8130U Processor
• 15.6-inch IPS display with a resolution of 1,920 by 1,080 pixels
• 4 GB of RAM, 64 or 128 GB of built-in storage
• Two USB-C 3.1 ports, USB 3.1 Type-A port, microSD card slot
BY BRANDON CARTE AND STEFAN VAZHAROV